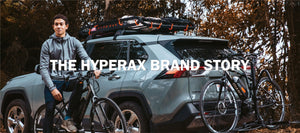 Hyperax gets your gear to the places that define you: mountains, rivers, trailheads, campsites, or outdoor destinations. We build sturdy and user friendly racks that transport lifestyle gears with premium features that make your life easier. Our roof and hitch racks are engineered with a durable build that will last for years, enriching your life with defining moments, journey after journey.
How we have helped thousands of RVers hauling their E bikes? e Biking PLUS RVing!
We understand how it feels to struggle with hauling your E-bikes to camping grounds. Especially they are heavy and bulky, however, with our sturdy and easy-to-install RV E-bike hitch rack, you can enjoy e Biking PLUS RVing at the same time. Join the 10000+ E bike riders who have already changed their way of hauling E bikes with HYPERAX!
Hyperax DIFFERENCE
・Solid box beam alloy steel construction VS round tubes used in others
・World famous powder coating supplier AKZO NOBEL ® weather resistant powder coated
・Proprietary WING shaped wheel holders for maximum tire contact
・All racks come with standard locks
・Save the earth! All recyclable packaging materials
・Limited lifetime warranty
・Amazon choice e bike rack
・Amazon choice RV e bike rack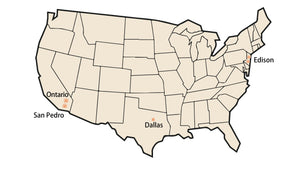 WAREHOUSES
Racks are conveniently located at warehouses throughout the United States - CA, NJ, and TX. Once you order your racks online, our staff will inspect, pack and ship them in two business days. In addition, delivery can be tracked by the courier via FedEx, UPS, or DHL with peace of mind.
Attentive customer service
If for any reason, you are not satisfied with our products, our professional staff can handle returns under the limited lifetime warranty. And offer prompt customer service within two business days.
We also stocked a large number of various parts and components for replacement. Our technical staff will answer your questions within one business day.
We also welcome qualified dealers to work with us. Please send your inquiry via sales@hyperax.co
DON'T SETTLE FOR LESS...
We have now bought one rack for ourselves and one for a gift. I LOVE this rack for our Rad electric bikes! They are heavy and expensive bikes.
This rack is super stable ! I'm sooooo glad I didn't cheap out and get a lesser rack. I know folks who have bought them....they are the ones with their bikes swaying and clashing together as they drive down the road. This bike rack keeps our investment from getting chips and scratches. Love it! Great product.
Fanny May, Aug 7 2021


GOOD QUALITY & CUSTOMER FOLLOW UP
This bike rack is just what we need for our fat tire ebikes. Sturdy and easy to use once you load and unload them a couple of times. One thing - our truck has a 2 1/2" receiver and the original locking hitch pin didn't fit. Hyperax rushed us a longer bolt so we could use the lock as designed and said they'd be making these available in future production runs.
Gotta love a company that responds to customer needs quickly and appropriately. Time to hit the trails.
Doug Mort, Oct 4 2020

GREAT CUSTOMER SERVICE!
This was one of only a handful of RV-approved bike racks that can handle the weight of our ebikes. It came with one locknut missing so I messaged the company and got an immediate response. The company sent a replacement locknut (3 of them) straight from Taiwan (not PRC!) in no time! Rack itself is sturdy and well-built. No regrets buying this rack,
especially with a company that stands behind their product.
Russ, June 1 2021



NICE AND STURDY
Very nice bike carrying rack. Fits two 4" fat tire electric bikes perfectly.
Traveled 1500 miles with no issues whatsoever. Highly recommend.
Julie, May 5 2021

EASY TO ASSEMBLE
This is what i was looking for to haul my new ebikes. Assembly was easy and there is a good video on You Tube that was easy to follow.
Thomas Mumper, Jan 2 2021

GREAT PRODUCT & CUSTOMER SERVICE
Great rack. Holds 2 29" ebikes with no problem. Customer service is amazing 👏. They respond to all questions issues quickly. Highly recommend!
Cie, April 17 2021