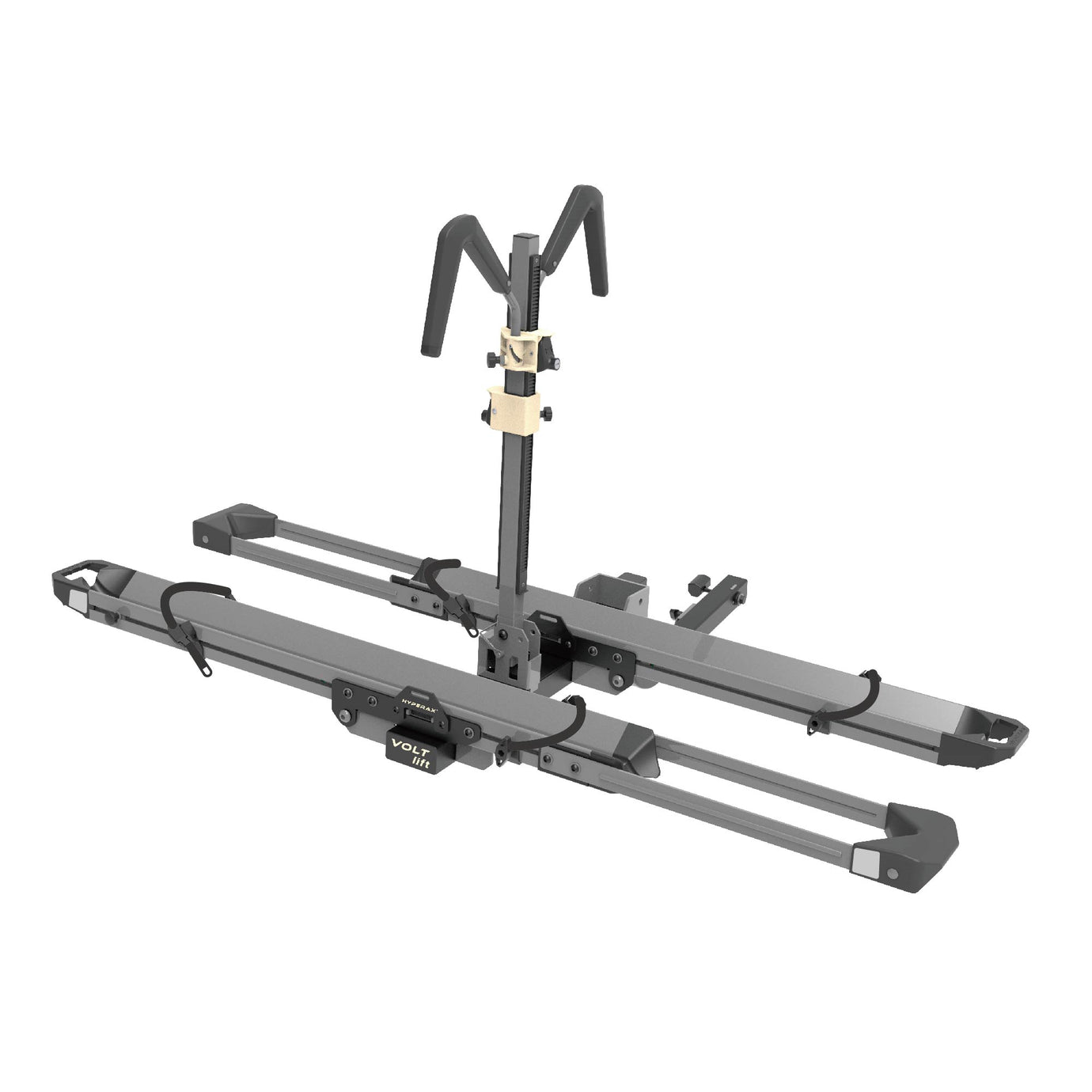 5
VOLT LIFT free WHEEL DOLLY
HYPERAX
 LIFT ASSISTED

Volt Lift RV Rated Hitch Mounted 2 E Bike Rack Carrier Up to 2X 80lbs eBikes with Up to 5" Fat Tires for RV and SUV
Integrated LIFT ASSISTED RAMP - Hyperax is proud to introduce the FIRST and the ONLY Propreitary AUTO LEVER
Easy-to-Use Lift-Assisted Ramp
Proprietary Clamping Hooks Design
Triple Security Protection
Maximum Capacity and Protection
Compatible 2" Hitch Receiver
Easy-to-Use Lift-Assisted Ramp:
Say goodbye to straining and struggling to load your e Bikes. With just
one button operation, the Volt LIFT's integrated ramp smoothly extends to the ground, allowing you to effortlessly roll your precious e Bikes onto the rack.
Proprietary Clamping Hooks Design:
Our clamping hooks are constructed from durable die-cast metal and boast a unique 90-degree turning feature. This ensures hassle-free loading without any interference, giving you peace of mind during your travels.
Triple Security Protection:
Worried about theft during your trips? The Volt LIFT ensures your e Bikes are safeguarded with triple security measures. The clamping hooks securely lock your e Bikes with a key, and an additional Cable lock is provided to keep your e Bikes safely attached to the rack.
Maximum Capacity and Protection:
With a capacity to carry up to two e Bikes, each weighing up to 80 pounds and having a wheelbase of up to 58 inches, the Volt LIFT is perfect for your RV adventures. The rack provides ample space for two heavy e Bikes with wheels of up to 5 inches in width. We take your e Bike's safety seriously, so each bike is secured with Velcro straps and safety straps during transit.
Experience the ultimate convenience and peace of mind with the Volt LIFT e Bike rack.
Let us handle the heavy lifting, so you can focus on enjoying your travels and exploring the great outdoors with your precious e Bikes securely in tow. Get ready for a new level of comfort and security on your RV journeys!